Tracy Puklowski on arrival in Launceston – now moving to Alice Springs
Jeremy Eccles | 04/15/21
Author: Jeremy Eccles
News Source: Press release
Northern Territory Minister of Arts, Culture and Heritage Chansey Paech has announced the appointment of Tracy Puklowski as Senior Director of the National Aboriginal Art Gallery in Alice Springs.
She will take up her duties on May 24, 2021 and will be tasked with leading the delivery of one of the biggest investments in Alice Springs in decades.
In her role as Senior Director, Ms. Puklowski will be responsible for leading a project team of five officers with a variety of conservation, engagement and project management skills, and will be responsible for 'contributing' to the design of the NAAG, to develop content and programming in the gallery and engage with stakeholders in Alice Springs and nationally to ensure the gallery's continued success.
Tracy Puklowski has extensive experience and a passion for the arts, museums and culture sector, which is demonstrated throughout her career during which she has held management positions in major art galleries. , museums and libraries, mainly in New Zealand.
However, she is currently the Managing Director of Creative Arts and Cultural Services at the Tasmanian City of Launceston, a portfolio that includes the management of the Queen Victoria Museum and Art Gallery (QVMAG) – Australia's largest regional museum – and the development of a cultural strategy for the City of Launceston.
Previously, she was director of the National Army Museum of New Zealand, where she led a strategic realignment of the organization. And before that, she was Associate Director at the New Zealand Museum Te Papa Tongarewa, where she was responsible for the exhibition. "Gallipoli: the scale of our war" – the country's most successful exhibition in recent history. Other roles have included that of Deputy Chief Librarian at the National Library of New Zealand and Managing Director of Te Papa's National Partnerships Unit.
According to her LinkedIn entry, "Tracy graduated from the highly competitive Getty Museum Leadership Institute. She is passionate about using value-based models to drive transformational change and the role of culture in thriving communities. With extensive experience in bicultural and multicultural environments, Tracy is committed to contemporary and inclusive practice ".
When she moved to Launceston in 2018, she was reported by the 'Examiner'for "his interest and work around First Nations culture, which was the main focus of his role at the New Zealand Museum." But she said that despite her expertise, her strategy to promote First Nations culture and stories in Tasmania is first and foremost to "listen." These are not my stories to tell, "she said. "It's all about relationships, it's about how you work together, and it's about listening."
"When I was at the National Museum, it was created as a bicultural museum, so that meant that the Indigenous worldview was integrated into all aspects of what we did. This is what could be achieved here. But I don't want to be the "colonialist" coming in and saying "yes, I can do it". It really doesn't depend on me. I can provide the conditions, but it's up to whoever wants to work with us and who wants to share their stories – and we're very fortunate to have a very supportive and knowledgeable Indigenous reference group at the museum.
She's a lady who moves fast! Just over two years in Launceston, and it wasn't until March 15 that she tweeted that she had moved into a new home big enough for her art collection.
In a quote attributed to her, Ms. Puklowski says, "The events of 2020 have reminded us all of the power of art to bring communities together and provide a space for healing. I commend the Government of the Northern Territory for having a vision that places indigenous art and knowledge at the heart of Mparntwe, and indeed of the country. "
A final inspiring thought from new Senior Director, NAAG: "The museum leaders I admire the most are those who have been bold and forged a new path. Museums affect change; I think museums can be transformational.
Good luck – as the NAAG has been under discussion for at least three years and its location is still the subject of a dispute between the traditional owners, city council and the NT government.
Url: https://creativeeconomy.nt.gov.au/about-arts-trail/national-aboriginal-art-gallery
Share this:
"
delicious "
Dig it "
reddit "
Google "
Tripping over '
Technorati "
Facebook
Contact details
An artist's impression of how NAAG – the National Aboriginal Art Gallery – will look at ANZAC Hill to Alice.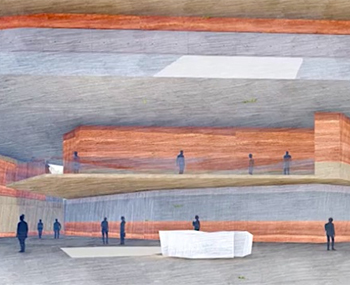 Further research