Ngali, photo by Jalaru Palay
Indigenous art repertoire | 01.15.21
News Source: Press release
The Darwin Aboriginal Art Fair Foundation's Indigenous Fashion Projects Announce Country to Couture Showcase is Coming to Our TV Screens for the First Time!
Following a successful event held in Darwin at the end of 2020, Country to Couture will present its exclusive parade on our TV screens with a first broadcast made possible for the first time via NITV.
A staple of the Darwin calendar, Country to Couture has been a key attraction, alongside the annual Darwin Aboriginal Art Fair (DAAF) since 2016, showcasing collections of Indigenous fashion brands as well as unique collaborations between Indigenous communities and Australian brands. well known. .
The impact of COVID-19 saw DAAF break new ground with a digital event in 2020, and Country to Couture also had its own change of scenery! In December, the fifth edition of the fashion event took place at Darwin's George Brown Darwin Botanical Gardens, which included an intimate gathering and showcase on the land of Larrakia. It was a fantastic opportunity for participating artists, designers, art centers, industry and sponsors to come together and celebrate.
After a turbulent year of closures and social distancing, DAAFF's Indigenous Fashion Projects are also excited to announce that they will bring a taste of iconic Darwin country to couture in Melbourne, Wurundjeri country, with an intimate Showcase event organized exclusively for participating designers and locals. fashion community.
Country to Couture celebrates the marriage of contemporary Aboriginal and Torres Strait Islander fine art and high-end fashion. The success of the textile design movement in remote Indigenous communities has led to exciting collaborations with well-known Australian designers, which have been showcased at the Country to Couture event alongside the annual Darwin Aboriginal Art Fair (DAAF) since 2016.
"Country to Couture celebrates contemporary fashion and textiles by Australian Aboriginal and Torres Strait Islander artists and designers, and recognizes collaborations where the Aboriginal agency is at the forefront. We see fashion as a platform for exchange and cultural awareness, creating new opportunities and development paths for our art centers, artists, designers and their communities.
Claire Summers, Executive Director, Darwin Aboriginal Art Fair Foundation
The annual showcase of Indigenous textile and fashion collaborations is supported by the Government of the Northern Territory through NT Major Events and iconic Australian lifestyle brand Country Road.
"Following the success of the National Indigenous Fashion Awards (NIFA), Country Road is incredibly excited to be working with DAAFF on Country to Couture. We are honored to participate in Country to Couture's first digital showcase, creating a wonderful opportunity to celebrate and learn from the art, design and talent of First Nations people. Showcasing works from Arnhem Land to the Tiwi Islands, this year's showcase will help share inspiring stories from all over Australia, and we can't wait to hear them.
Elle Roseby, Executive Director, Country Road
Country to Couture Showcase NITV Broadcast – January 22, 2021
Tune in and experience the beautiful fashion and high-end Indigenous textiles on offer at Country to Couture with a free-to-air show on NITV, which celebrates the stories behind the six collections and offers a glimpse of the intimate showcase held at Darwin.
Discover the 2020 program
This year's lineup features collections from across Australia, including works by: Ngali (with artist Lindsay Malay of the Warmun Art Center), Warlukurlangu Aboriginal Corporation, Anindilyakwa Arts and Anna Reynolds, Ikuntji Artists, Liandra Swim and Bima Wear. These include unique collaborations with the North, Magpie Goose and Nobody Denim labels.
Get to know some of the amazing designer and artist collaborations that will be featured in the upcoming Country to Couture.
DAAFF is looking forward to sharing more about the annual Country to Couture event which is scheduled to return to the show in August 2021.
Country to Couture event to be broadcast via Facebook broadcast via NITV | 7:00 p.m. AEDT on Friday January 22, 2021
To log in and watch the live stream, audiences can simply go to @indigenousfashionprojects (https://www.facebook.com/IndigenousFashionProjects).
Viewers can also RSVP via the FB event page for a reminder: https://www.facebook.com/events/196664055472508
For more information, visit www.ifp.org.au/country-to-couture and follow Indigenous Fashion Projects on Facebook and Instagram as @indigenousfashionprojects.
Url: https://www.ifp.org.au/country-to-couture
Share this:
"
delicious "
Dig it "
reddit "
Google "
Tripping over '
Technorati "
Facebook
Contact details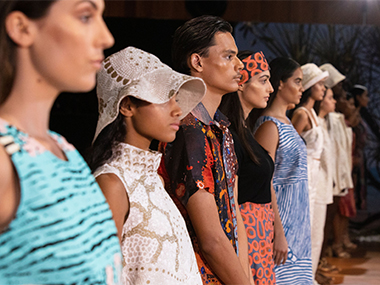 From Country to Couture 2020-21
An initiative of Indigenous Fashion Projects, Darwin Aboriginal Art Fair
Further research